BLIND FLIGHT + Q&A with Brian Keenan & John McCarthy plus Director John Furse
20 October @ 7:30 am

-

10:00 am

£10
BLIND FLIGHT is the film of Brian Keenan and John McCarthy's 4 1/2-year imprisonment together as hostages of Jihadists during Lebanon's civil war.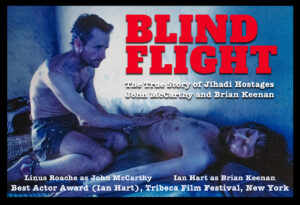 Based on Keenan's and McCarthy's No 1 best-selling accounts of their ordeal 'An Evil Cradling' and 'Some Other Rainbow' (written with Jill Morrell) the film is both a prison drama and a spiritual love story.
In the face of the most acute deprivation and under constant threat of death the Irishman and the Englishman, from completely different and potentially antagonistic backgrounds, forge a friendship which transcends all that appears to divide them. As they share their deepest memories, feelings, fears and loves they discover a capacity for inner freedom, a joy for life and a compassionate humanity which embraces even their captors.
Gripping, harrowing, bizarre and humorous BLIND FLIGHT is a deeply moving and uplifting film about personal liberation through love and understanding. It's a universal story whose themes and settings in the trouble spots of the Middle East and Northern Ireland make it exceptionally pertinent to the times we live in.
Written by first-time director John Furse in close collaboration with Brian Keenan and John McCarthy the critically acclaimed film contains two outstanding performances by Ian Hart as Keenan and Linus Roache as McCarthy.
Following this special film screening there will be a Q & A with Brian Keenan, John McCarthy and the film director John Furse. The Q&A will be led by film-maker Mark Kidel. 'This will be the first time for almost 20 years that Brian and John have appeared together to discuss the film of their story'